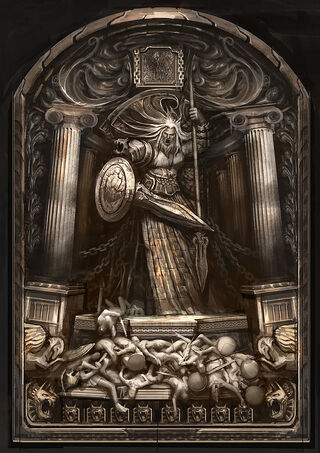 About me
Little mortal, weak warrior, slave spartan or thrace, miserably god, damned titan,
I'm the Power. I'm the Terror. I'm the Hatred. You're nothing. I fear nothing. I hope for nothing. You cannot stop me. Nothin can. If you are on my road, I leave nothing at you in my trail expetly your blood and your dead mutiled corpse. My body is the greatest of power. My arms are the vice of a giant. My hands the claws of an eagle. My trunk a marble armor. My back an indented cliff. My thighs and calfs of the unwavering supports. My feets of the agile and fast legs. My somber mane a crown of blood. My sombers eyes, a mortal symphony. My iris, an ire of darkness. My nose, an arrogant person rashness. My lips, the silkys edges of one hell of curses. My jaw, the hands of Death. My paleness, the shadow of Death.
My murderous army, of muscles, spears, blades and fangs is the embodiment of despair. My hoplites, my riders, my berserkers, my ulfarks, I am the Tenacity and the War. You are glorious, dead or alive, wounded or unhurt, brought down or strong. My anger will make you the masters of this earth.
My spear pierce your body. My shield broke your valor and your attacks. My blade hurt and take your life. I will have my Vengeance.
I am your Nightmare. I am your Fear. I am the God of War. I am Ares !
My favorite pages
Add links to your favorite pages on the wiki here!
Favorite page #2
Favorite page #3
Community content is available under
CC-BY-SA
unless otherwise noted.