About Me...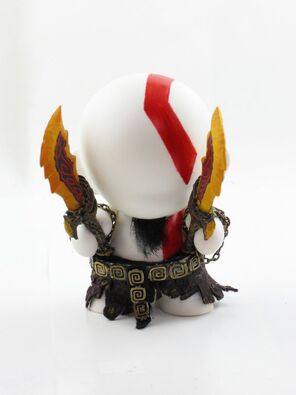 I been playing the God of War series since the very biginning! Yes I realise I spelt it wrong because its a very big series! I loved this game from the moment I saw the promotional posters before the game came out, mainly coz I was the kid when the other guys had skateboards, criket bats and girls under their arms, I had The Odyssey of Ulysses, Battle of Olympus and Assorted Greek Mythology ... and girls too. I was always searching from the coolest protagonists the idolise but could never find any quite bad-ass enough. Theseus was ok, but then the went and shacked up and retired as King, Perseus had a great rad story but was uch a whinger and I thought Achillies was my man until he got an Achillies Heal ... and then came Kratos (with a K, not the other guy that was with a C who was a god, sort of) ... now here's antihero to aspire to!
I made it my mission after GoW I to have every game (that I know of) that makes a reference to Kratos or GoW. GoW Chains of Olympus, I, II, Betrayal and now GoW III, I have Heavanly Sword, SC: Broken Destiny, Everybody's Golf: World Tour, I had The Simpsons Game (but sold it once I saw God of Wharf) ... I even went out and bought Guitar Hero III (... I mean, 3!) just to play the GoW theme! But now what?! Did the vengence really end here? I hope not!
By profession, Im an English teacher and I'm very luck over here in Aus that we can, within reason, use video games (and anything else for that matter) as a teaching tool. I say this to boast my happiness that as of Maty 28th 2010, I have used God of War twice as a close study of a text, once as a comparative study, once as a major text or a thematic topic on 'Vengance and Conflict', Kratos twice as a character study, Athena and Kratos once in a study on 'Suggested Relationships in Texts' and used other elements from the series in other topics as a related text, example, reference or inspiration another 28 times across the High School years. I have been dubbed by my yrs9, 10 & 11s as 'Teacher of War'. This was the happiest day of my career.
... and another thing, I want Kratos to finally battle Master Chief so they can finally realise: Kratos IS a Spartan who was once a God and has escaped from the underworld FOUR times; where-as Master Chief only calls himself a Spartan and has good aim with a gun? Wake up!
Favourite Pages
Community content is available under
CC-BY-SA
unless otherwise noted.