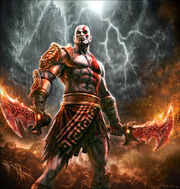 Hello there! My name is RaidenX, and I am a big fan of the God of War gaming franchise. I've spent my time looking up the information on this wiki, but now, I have decided to help you guys out! I even saw the new footage for God of War III. Speaking of that, I preordered it. I'll be doing this for Kratos. And I have this to say....DEATH TO THE GODS!!! And Titans...
God of War video games that I have
Favorite God of War Characters
Favorite Places to wreak havoc and destruction on
Favorite Weapons
Favorite Magic
Favorite God of War Bosses
Favorite God of War Music
The End Begins
Glory of Sparta
Rage of Sparta
The Ghost of Sparta
Chimera
Stalker
Pandora's Song
Community content is available under
CC-BY-SA
unless otherwise noted.