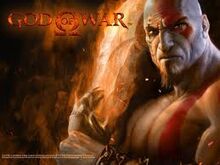 ==
I've loved Greek Mythology, since i was little. The stories amuse me. The men are feirce. The women are beautiful. And the stories are just great. The God of War series is amazing and I play it every day. My favorite is God of War 3. I love the blood and gore. I love the violence. I love the nuditiy. I love the power of Kratos. My assighnment is to perfect pages on God of War and add amazing things.
==
My favorite pages
My favorite pages on God of War wiki are:
Special Page of the Week: On theCamp-Half blood Wiki: Nike
Kratos
Zeus
Hades
Hellios
God of War Novel
Community content is available under
CC-BY-SA
unless otherwise noted.