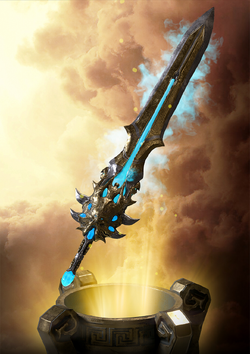 "
Forged from the heaven and earth, this blade banished the Titans to the pits of Tartarus and ended the Great war.
"

–Ingame description
The Blade of Olympus is a weapon in God of War: Ascension multiplayer available only to warriors who sworn an oath to Zeus. Unlocked by using 3 Ascension tokens on it.
Experience
Rank 1 - n/a
Rank 2 - 75,000 XP
Rank 3 - 250,000 XP
Stats
​Rank 1 - +8% Physical Power; +12% Elemental Power; +3% Physical Resist
Rank 2 - +9% Physical Power; +13% Elemental Power; +4% Physical Resist
Rank 3 - +10% Physical Power; +14% Elemental Power; +5% Physical Resist
Attacks
Sparta's Lament: Shockwave attack that send out a radial blast. L1 + Square
Divine Reckoning: Drive your sword into the ground summoning a tornado that sucks in opponents. L1 + Triangle
Trivia
Related Pages
Community content is available under
CC-BY-SA
unless otherwise noted.