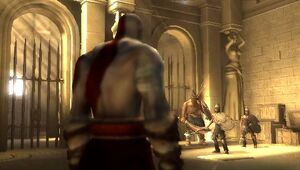 The Stronghold of Attica is a large structure located within the city
God of War: Chains of Olympus
The stronghold contains a large room that holds a large mass of treasure. Within the stronghold, in the treasure room, Kratos fights and defeats the Persian King in a battle to the death.
Upon killing the king he also rescues a pair of naked women who were trapped in a chamber of the stronghold by the king and his men. Just like in the other God of War games, Kratos can initiate a mini-game with them, and if done correctly Kratos will gain a bonus of 150 Red Orbs.
Objects/Treasures
Related Pages
Gallery
Community content is available under
CC-BY-SA
unless otherwise noted.