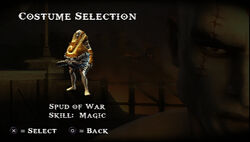 Featured as an additional costume for Kratos in God of War: Chains of Olympus, the Spud of War is unlocked by beating the game on any difficulty. It is described before being unlocked as "This costume has a peel..." After being unlocked it is described as "Kratos in a potato = the Spud of War." When worn, Kratos is dressed like a giant potato, and parts of the potato's skin are peeled away to resemble his red body tattoos. His Blades of Chaos are replaced by a pair of potato cutters. Wearing this costume gives Kratos infinite magic also grants him to resist the damage four times the normal, although his strength remain the same.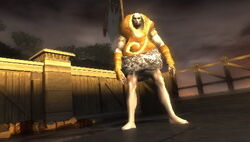 Other Additional Costumes
The other bonus costumes found in God of War: Chains of Olympus are as follows:
Community content is available under
CC-BY-SA
unless otherwise noted.