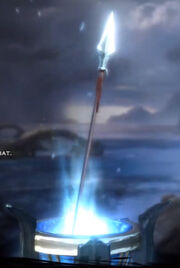 "
Carried back from the Spartan King's epic stand against Persian invaders, Leonidas wielded this spear until the last drop of life left his body.
"

–In game description
The Spear of Leonidas is a weapon that comes with the Armor of Leonidas set as DLC or by preordering at Gamestop.
Experience
Rank 1 - n/a
Rank 2 - 4,000 XP
Rank 3 - 16,000 XP
Stats
Rank 1 - +3% Physical Damage; +3% Elemental Damage
Rank 2 - +4% Physical Damage; +4% Elemental Damage
Rank 3 - +5% Physical Damage; +5% Elemental Damage
Attacks
Glory of Thermopylae - A quick, physical based spinning attack that combos enemies and launches them. L1 + square
Revenge of the 300 - Execute a blunt powerful attack, followed by a sweep that knocks enemies off their feet. L1 + triangle
Related Pages
Community content is available under
CC-BY-SA
unless otherwise noted.