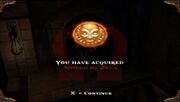 The Shield of Zeus is an object needed to further enter Pandora's Temple. Along with the Shield of Hades, these two objects grant Kratos further passage into Pandora's Temple. To obtain the shield, Kratos must push a large bin of rocks onto a small button-like stone which opens a door. From there, Kratos has to defeat a few soldiers, climb up a ladder and walk across a small beam to obtain the shield. The Shield itself appears as a large gold shield that has an engraving of the god Zeus during the Titanomachy. When put upon a doorway with the Shield of Hades, it unlocks a passage deeper into the Challenge of Atlas.
Related Pages
Community content is available under
CC-BY-SA
unless otherwise noted.