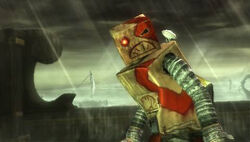 The Robotos costume, meant as comic relief, is a costume made out of cardboard boxes, ventilation hoses, and duct tape.
According to the developers, there had to be a humorous costume in every God of War game. Several were featured in Chains of Olympus, but, apparently, none were as well done as this.
This costume is the developers' favorite costume. Going back and forth on what kind of robot it had to become, they finally decided the most humorous version was a robot costume made out of cardboard boxes, metal ventilation hose, and duct tape, with permanent marker detailing meant to mirror Kratos' tattoo.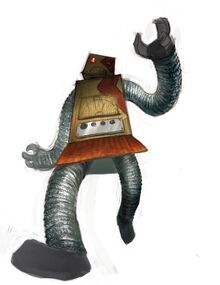 Robotos has the ability to generate massive combos by increasing the amount of time allowed between hits to increment the combo meter. Also, His damage dealt with the Blades of Athena and Arms of Sparta have been decreased along with magic costing him twice as many Blue Orbs to use. Finally, All enemies drop Blue Orbs when they have been hit
Obtaining It
This costume is the most expensive item in the Temple of Zeus in Ghost of Sparta. It costs 250,000 red orbs and opens up a chamber that leads to the Grave Digger's Shovel.