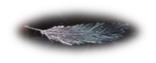 In the God of War series, Kratos can find Phoenix Feathers by finding and opening hidden chests, or by searching in secret areas.
In the God of War Series
For every 5 feathers found, his magic meter increases partially
After 15 feathers, the magic meter is increased to its full potential
For every six feathers Kratos finds, he will be able to make a sacrifice to the gods and increase his magic meter, as well as fill it up if it is lacking. After 18 feathers, no more can be found in game.
In Betrayal, each single Feather found increases the magic level.
Just as the Gorgon Eyes, only 3 Feathers are needed to increase the magic meter. Also the Feathers are no longer blue in color as previous installments, here they appear reddish orange.
The Feathers retain the reddish orange color from God of War III, but just as in Chains of Olympus 5 feathers are needed to increase the magic meter.
Glitch
In rare occasions in Ghost of Sparta, the last 5 Phoenix Feathers won't be saved in your profile the first time you finish the mission. Replaying the game and collecting the last 5 Phoenix Feathers will fix this problem.
Community content is available under
CC-BY-SA
unless otherwise noted.