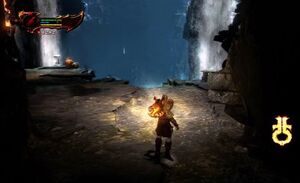 The Path of Eos was a hidden cavern that lain near the feet of Mount Olympus, just beyond the city of Olympia.
After he killed the Sun God, Helios, Kratos used his head to uncover a hidden doorway within the mountainside. Beyond the doorway lain the Path of Eos, which consisted of numerous tunnels, stone paths, and walkways. Parts of the path were very dark, which required Kratos to use the newly acquired Head of Helios to illuminate the way. The path was mostly infested with Olympus Sentries, Olympus Archers, and Wraiths of Olympus. At the very end of the path was a giant Icarus Vent, which Kratos used to reach the Caverns of Olympus, which sat higher up within the mountain.
Glitched Draft
Also known as Secret Eos. If anyone were to perform Icarus Ascension on a particular part of the hidden door once it's found, in the demo, the player was able to climb and maneuver, and entered a glitched state that extended the demo much longer. After opening the door, the Pate of Eos was covered in a white mist. It was currently unknown if the demo was finished.
Gallery
Trivia
The Path of Eos was named after the Goddess, Eos. In an ironic twist, Kratos used her brother's head to find his way out of the Cavern.
Related Pages
Community content is available under
CC-BY-SA
unless otherwise noted.