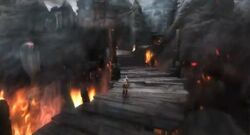 The Mounts of Aroania were the location of Kratos and Erinys' battle in God of War: Ghost of Sparta.
Greek History
Aroania, also known as Chelmos, Helmos and Khelmos (Greek: Αροάνεια, Aroaneia, or Χελμός, from South Slavic хълм, mountain), is a mountain range that spans about 15 to 20 km from north to south (north-east of Lykouria and about 10 km SW of Diakopto) and about 5 to 10 km from west to directly east of Kalavryta to the Achaia-Corinthia prefectural border.
The mountain range is in the prefecture of Achaia. In ancient times, much of the mountain was part of Arcadia. In the Middle Ages and until the 20th century, the mountain was known as Chelmos. The mountain is home to the Kalvryta Ski Center which is in the northern part.
God of War: Ghost of Sparta
After
Kratos
left
Crete
, he ventured forward into these mountains, continuing his journey to find
Deimos
. Unbeknownst to him,
Erinys
, daughter of
Thanatos
, searched for him, interrogating and killing any
Spartan
in her way. Kratos and Erinys then dueled after encountering each other near a bridge.
After a battle on the bridge, Erinys transformed into a massive bird and flew off. Kratos then gave chase; he latched onto Erinys' bird form and stabbed it repeatedly, which led to both of them crashlanding near Sparta.
Kratos then killed Erinys; taking her Scourge along with him, he moved on with his quest, eventually reaching Sparta. He then entered these mountains again in order to return to a sunken Atlantis, and, eventually, he left the mountains and entered the Canyons of Sorrow.
Related Pages
Community content is available under
CC-BY-SA
unless otherwise noted.