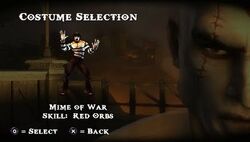 Featured as an additional costume for Kratos in God of War: Chains of Olympus, the Mime of War is unlocked by beating the game on God Mode. It is described before being unlocked as "What you can't see can hurt you..." After being unlocked it is described as "You are the Mime of War." When worn, Kratos is dressed like a mime. The Blades of Chaos, Gauntlet of Zeus, and Sun Shield are rendered invisible, showing only gloved hands instead. Wearing this costume increases the value of any Red Orbs Kratos obtains four times as much as normal and twice the value of any Green Orbs or Blue Orbs.
Other Additional Costumes
The other bonus costumes found in God of War: Chains of Olympus are as follows:
Community content is available under
CC-BY-SA
unless otherwise noted.