The Manticore is mytholigical Persian beast that is set to appear as a boss in God of War: Ascension.
Mythology
The Manticore (Early middle Persian) is a Persian legandary creature similiar to the Egyptian sphinx. It has the body of a lion, a human head with three rows of sharp teeth similar to a shark, and a trumpet-like voice.  Other ascpects of the creature cary from story to story. It may be horned winged or both. The tail is either a dragon's or a scorpion's, and it may shoot poisonous spines to paralyze or kill it's prey. it devours its prey whole and leaves nothing behind.
In the God of War Series
In the teaser trailer for the God of War: Ascension single player, it shows Kratos battling the Manticore in a cold and snowy environment in
Delphi
; possibly on high mountain tops. And in another scene shows
Kratos
trying to subdue and kill the beast while the latter trys to kill Kratos with its flaming breath, this is a prompt-less minigame.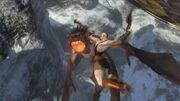 The Manticore is presented with lion-like facial features, the jaw of a shark which can become unhinged, bat wings, human arms, a scorpion tail and insect-like plates lining its back. This is moderately close to its mythological appearance. In the Dev-diary, we see that the battle will more likely start and/or end in front of a snake themed temple and then on an arena by the temple. It stated that Kratos will encounter the Manticore a few times before finally confronting it head-on.
Trivia
It should be noted that the Manticore does not have arms that are separate to its wings in the God of War universe, this is different to the one in actual mythology as that had a lion body complete with four legs.
In the single-player teaser when Kratos jumps and attacks the Manticore, there's a large snake like beast or structure right next to them.
Gallery
Video