"
We will be the gods we choose to be, not those who have been. Who I was is not who you will be. We must be better.
"

–Kratos to Atreus
Kratos (Greek: Κράτος) is the protagonist of the God of War series. Born in Sparta, Kratos was a respected soldier and General, up until he lost his wife and daughter when he killed them, albeit by accident, under Ares' command, earning him the nickname of "The Ghost of Sparta", after which he renounced his service to the war god, eventually killing him and ascending to Godhood before exacting revenge against his father, the Olympians and the Titans who betrayed him.
After successfully exacting his vengeance, Kratos escaped into the world of Norse Gods by settling down in Midgard in Ancient Norway where he married another woman named Faye and bore a son named Atreus who together, after the boy's mother's death, would embark on a journey to spread her ashes at the highest peak of all the nine realms.
BiographyEdit
Early lifeEdit
See also: God of War, God of War (Comics), Ghost of Sparta, and God of War II
Born in the Greek city-state of Sparta, Kratos is the demigod son of Zeus and a mortal woman named Callisto, although he would remain unaware of who his father was for most of his life. Outraged at Zeus for fathering yet another bastard child, Hera ordered Kratos' execution on the day he was born, but the King of the Gods took pity on the child and refused, leaving him in Sparta to be raised by Callisto.
Like all Spartan youth, Kratos was monitored and trained for combat by the Spartan authorities; those who were deemed fit were to stay and be trained as Spartan warriors, while those who were deemed unfit would be sent to the mountains (probably Mount Taygetos) to fend for themselves. Already feisty and aggressive at a young age, Kratos trained together with his younger brother, Deimos, as they dreamed of joining the Spartan army when they grew up. Around this time, Zeus began to hear prophecies foretelling his demise at the hands of one of his sons, a "marked warrior". Hoping to circumvent the cycle of patricide before it was too late, Zeus sent Ares and Athena to hunt down and dispose of the boy who would one day rise up against him. Ares, noticing Deimos' strange birthmarks, decided to invade Sparta with an army of centaurs and take him to Thanatos, the God of Death. Kratos tried to save his brother, but Ares punched him into a pile of wood, leaving him with a permanent scar over his right eye.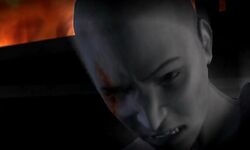 Insulted by the mortal's defiance, Ares prepared to kill the young Spartan but was stopped by Athena. The Goddess reminded Ares that they had what they were looking for, and apologized to Kratos before disappearing into the flames. The loss of his brother left an indelible mark on Kratos, as he vowed to never falter again. In honor of his brother, Kratos had himself tattooed in the exact image of Deimos' birthmark. Kratos would later forget that it was Ares and Athena who took his brother from him and wouldn't realize it until after Ares' death.
As Kratos came of age, he became a respected member of the Spartan army, eventually marrying Lysandra and siring a daughter, Calliope.
Quest for the Ambrosia and Rising through the Ranks of The Spartan ArmyEdit
Shortly after her birth, Calliope contracted a plague, causing the Spartan authorities to deem her weak. Spartan law required that she be thrown into a chasm and left to die. Determined to save his daughter, Kratos set out on a journey for the Ambrosia after hearing from an elder of its exceptional healing capabilities. But unbeknownst to Kratos, Ares had chosen him to be his champion in the wager of the Gods, a contest with the ultimate goal being the capture of the Ambrosia; the victor would have statues erected in their honor all throughout Greece. A battalion of Spartans accompanied Kratos on his quest, including Captain Nikos. Along the way, he encountered a healer who gave him the Flames of Apollo.
Kratos eventually encountered Poseidon's champion, Herodius, and killed him as the Spartans conquered his army and stole their ship. Enraged at Kratos for costing him the wager, Poseidon unleashed a handful of hazards at sea in the hopes of killing him but failed. Later on, Kratos encountered Artemis' champion, Pothia, and killed her as well, with her army also falling victim to the Spartans, although Artemis did not retaliate. In fear that Kratos would defeat his champion, Alrik, the Barbarian King, Hades sent a torrent of fire through the sky. Although he failed to kill Kratos, he succeeded in killing many of Kratos' men, including Captain Nikos. As he found the Ambrosia, Kratos encountered Cereyon, the Helios' champion, and killed him as well.
Alrik and his Barbarian army battled the Spartans for the Ambrosia, as Alrik's Father was very ill and in need of the elixir. After a grueling battle between the two leaders, Kratos successfully captured the Ambrosia at the cost of his own men and summoned an army of Rocs to continuously torture Alrik. Kratos then returned to Sparta and healed Calliope, obtaining the rank of 'Captain' from the King of Sparta.
At some point after becoming captain, Kratos would command a young soldier named Atreus who remained hopeful even in the darkest times. When the day came for Atreus to lay down his life in battle, he did it without hesitation and saved many others, earning Kratos's respect. The captain carried Atreus home on the soldier's shield and personally buried him will full honors of Spartan custom, acknowledging him as the only Spartan who ever had a smile on his face even in battle.
Birth of the GhostEdit
As a general, Kratos won battles through brutal, but effective tactics. However, his pride and hunger for power grew greater with every victory. Despite Lysandra's pleas, Kratos vowed to continue his bloody conquests "until the glory of Sparta is known throughout the world", spending time with his family only when he was able to return to Sparta.
Kratos and his army finally met their match when they encountered the merciless Barbarian tribes from the East, led by Kratos's old enemy, Alrik. Outnumbered and overpowered, the Spartans quickly found themselves on the losing end of the battle, with Kratos himself left at the mercy of Alrik the Barbarian King, who sought revenge against Kratos for inadvertently causing the death of his father. In desperation, Kratos called out to Ares, the God of War, pledging his allegiance in exchange for victory. Ares accepted the offer, proceeding to kill all of the Barbarians, including Alrik, and giving Kratos the Blades of Chaos as a sign of his servitude.
For a time, Kratos served Ares loyally, raiding villages, slaughtering innocents, and spreading chaos in his name. Under the God of War's influence, Kratos became utterly ruthless and gradually lost any semblance of the humanity he once had. One day, during a raid on a village of Athena's followers, Ares secretly transported Lysandra and Calliope to a nearby temple. Ignoring the village oracle's warnings, Kratos entered the temple and slaughtered everybody inside in a fit of blind rage, including his wife and child (whom he believed were still in Sparta). Ares justified this as a means of severing Kratos' remaining attachments to the world of mortals, thereby molding him into the perfect warrior. Stricken with horror and grief at what he had done, Kratos left the bodies of his family to be burned within the temple, ultimately renouncing his allegiance to the God of War. The oracle cursed Kratos, forcing him to forever wear the ashes of his dead family on his skin.
From that day forward, Kratos became known as The Ghost of Sparta; his skin now 'pale as the moon' from the ashes that coated him. To other mortals, he was now marked by his ghostly white skin - the knowledge of his past actions often repulsed them to the point where they would rather die than allow him to save their lives. He became known as the personification of cruelty and selfishness. Word of this metamorphosis would spread even outside of Greece as Norse god and advisor to Odin, Mimir who would become a future ally to Kratos himself would later on instantly recognize who Kratos was.
Redemption and VengeanceEdit
See also: God of War: Ascension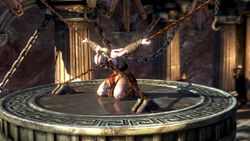 For breaking his oath, Ares ordered The Furies to hunt down the Ghost of Sparta and force him to once again serve the God of War. Meanwhile, Kratos finds himself in the abandoned village of Kirra, where he is trapped in an illusion of his home in Sparta, with his blood oath inhibiting memories of him killing his wife and daughter. The Furies' oath-keeper, Orkos, appeared before him and encouraged him to see past the illusion, using Lysandra's necklace and ring to break it. Although Kratos distrusted him, he followed Orkos's instruction to seek out Aletheia, the Oracle at Delphi. She had earlier been captured by Pollux and Castor, but Kratos killed them both and took the Amulet of Uroborus. He spoke with the dying oracle, who revealed Ares' plan to mold Kratos into a warrior capable of overthrowing Zeus, thereby allowing Ares to become the new King of Olympus. Kratos then traveled back to Kirra, where he encountered Orkos once again. The oath keeper revealed that he is the son of Ares and Alecto, one of the three Furies.
Orkos explained Ares' intentions to Kratos. As Zeus had forbidden the Gods from waging war on one another, Ares sought to breed a warrior capable of destroying Zeus in his stead, so that Ares may usurp him and rule Olympus for himself. Disappointed in Orkos' complete lack of fighting skills, Ares disowned his son. Instead, Orkos became oath keeper of the Furies in an attempt to please his mother, Alecto. Ares saw in Kratos the makings of the warrior he needed to overthrow Zeus, and for that reason, he helped him against the Barbarians that day. The murder of his family was meant to be one of three "tests" that would bind Kratos to Ares' will: the slaughter of one's enemies, the slaughter of innocents, and the slaughter of one's own family. Orkos did his mother's bidding as oath keeper and did not question her until Ares tricked Kratos into killing his family. Armed with this knowledge, Kratos took a ship to Delos.
Once there, Kratos traversed a giant, ruined statue of Apollo, where he was attacked by all three Furies. In the ensuing confrontation, Kratos managed to cut off Megaera's arm, but Alecto used her power to capture him. Orkos appeared and freed Kratos, escorting him to another location, with Alecto vowing that he would never succeed. After a perilous journey, Kratos used the Amulet of Uroborus to fully restore the statue and retrieve the Eyes from the Lantern. But after completing the Trials of Archimedes, he was once again ambushed by the Furies, who take him prisoner and steal both the Eyes and the Amulet.
For two weeks, the Furies tortured Kratos in the Prison of the Damned. The Spartan eventually managed to free himself and pursued Megaera through the prison. She and Tisiphone attempted to misdirect him with an illusion of a brothel. When he went to sleep with a woman inside, he spotted a ring on her finger and realized that it was a trick. He responded by tackling Tisiphone, but Megaera intervened and insisted that Kratos belongs to her. Megaera released insects into Aegaeon's hands and mouth, mutating them into insect-titan hybrids. Kratos retrieved the Amulet of Uroboros by killing Megaera and the Hecatonchires, only for Tisiphone to create an illusion of him being honored by the King of Sparta. Kratos saw through it and, progressing further into the prison, found the Scribe of Hecatonchires, the first mortal to ever be imprisoned by the Furies. The Scribe revealed that the Furies were originally fair in their punishment, and became ruthless only under Ares' influence.
Making his way to Alecto's chamber, Kratos retrieved the Oath Stone from Tisiphone's pet bird, Daimon. Upon entering the chamber, the Furies project another illusion, this time of Kratos' home in Sparta. He is nearly taken in by this, for he saw his wife and daughter again. He came close to sleeping with the image of Lysandra, but soon notices the ring on her finger, revealing her to be Alecto. She then tries to convince Kratos that he could live in this illusion forever if he rejoined Ares; however, noticing the Eyes of Truth hanging on her hip, he refused, preferring the truth to living a lie. Enraged, Alecto drops the illusion and threatens to execute him if he would not serve Ares. Kratos breaks free of her sludge trap and snatches the Eyes from Alecto, who retreated back into her sanctum before she realized they were gone. Tisiphone joined Alecto as Kratos advanced on the remaining Furies. They created an illusion of a massive whirlpool, with Alecto transforming into a horrific sea monster.
Using the Eyes, Kratos broke through the Furies' illusions and forced Alecto back into her human form. As he advanced on the Fury Queen, Tisiphone dispatched Daimon once more, but Kratos simply used the Eyes to destroy the bird. He proceeded to strike Tisiphone, shapeshifting between the forms of the King and Kratos himself, as she belittled him. As he wrapped his hands around her throat, Tisiphone transformed into the form of Lysandra, causing Kratos to briefly hesitate. Tisiphone then changed into the Village Oracle, telling Kratos that his family was not there by mere chance the night he killed them before Kratos snaps her neck. With only Alecto left, Kratos drew his blades. The Fury Queen coldly tells him that the truth would only bring him pain before he plunges his blades into her chest. With her last breath, Alecto spitefully promises that her death would change nothing.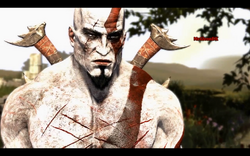 With all three of the Furies dead, Kratos returned to his home in Sparta, where Orkos congratulated him on his victory. At the same time, he also revealed that he was made the new oath keeper, thereby maintaining Kratos' bond with Ares. He begged Kratos to give him an honorable death, as it would free them both from the God, to which Kratos initially refused, proclaiming that no more innocent blood should be spilled. Orkos'a continuing pleas ultimately forced Kratos's hand. With this act, Kratos experienced the first of many nightmares, previously masked by his bond to Ares: this was the price he had to pay for breaking his oath. He also discovered his path to redemption through continual service to Olympus. Kratos proceeded to burn down his house, with the corpse of Orkos inside it.
Service to the GodsEdit
See also: Chains of Olympus
"
Is this all you would have me do? Is there nothing else!?
"

–Kratos, serving the gods.
For the next decade, Kratos faithfully served the Gods of Olympus in whatever tasks they required of him. During the fifth year of his atonement, he joined the army of Attica in their struggle against the invading Persian Army and the great beast they brought forth. After a lengthy battle, Kratos killed both the Persian King and the Basilisk, before asking the gods if they wished him to do more in his servitude. At that moment, the Ghost of Sparta saw the Sun fall from the sky and vanish, leaving the world in darkness.
Sensing a plot at work, Kratos followed the last remnants of light on the horizon, eventually reaching the Temple of Helios and the city of Marathon. Upon consulting with Athena, Kratos realized that Helios, the God of the Sun, had been kidnapped by an unknown force, allowing Morpheus, the God of Dreams, to put the other Olympians in a deep slumber. With the Gods of Olympus incapacitated, Kratos was tasked with finding and rescuing Helios before Morpheus could seize control of the land by covering Greece under his Black Fog. Fighting through Morpheus' minions, Kratos entered the temple of the Sun God and, after learning of the events that transpired, was tasked by Eos, the sister of Helios, to awaken her brother's Fire Steeds, which would take Kratos to where Helios was being held prisoner.
Having awakened Helios' Steeds, Kratos was taken to the Underworld where he saw Helios' glowing light in the distance, right before the Pillar of the World. Kratos fought his way through Hades' domain, acquired the mighty Gauntlet of Zeus, entered Tartarus and killed Charon, the ferryman of the dead. Kratos then discovered that the Titan Atlas had somehow escaped Tartarus and captured Helios.
Throughout his journey, Kratos was plagued by illusions of his daughter, Calliope, and the song she played on the flute that he once gave to her. When Kratos reached the Pillar of the World and the Temple of Persephone that lay nearby, he had already forgotten his task, thinking only of reuniting with his daughter. He encountered Persephone, the Queen of the Underworld who had been kidnapped by Hades and forced to wed him. She revealed that Kratos could be with his daughter again if he relinquished all of his powers to the Forsaken Tree. Desperate to see his daughter again, Kratos did as she asked, and she allowed him to enter the Elysium fields where he met with his daughter and was seen happy for the first time since he became the Ghost of Sparta.
Persephone appeared before him, revealing that it was she who freed Atlas and asked him to capture Helios. With his help, she devised a scheme to destroy the Pillar of the World, thus killing the Gods of Olympus and all of mankind as well. She taunted Kratos with the knowledge that he may live with his daughter for a short period, but would ultimately see her die again upon the completion of her plan. Kratos then forced himself to become the Ghost of Sparta again by killing the innocent souls of Elysium and regaining his powers. Whilst giving pursuit to Persephone, he realized that he would never have the chance to be with his daughter again. As he heard her crying behind him, his hatred for the Gods of Olympus deepened.
An enraged Kratos succeeded in killing Persephone and chaining Atlas to the ground above the Pillar of the World, thus completing his task. Before he left the Underworld, Atlas asked Kratos if he truly believed that the Gods would keep their promise. Kratos replied that it was the only thing he could hope for now since he could not go back to Elysium. With the use of the Fire Steeds, Kratos then escaped the Underworld, but found himself too exhausted from the journey and fell from the Chariot to the ground below. He was saved by Athena and Helios, who stripped him of his powers and equipment, leaving him unconscious upon the cliffs overlooking the Aegean Sea.
The Final TaskEdit
See also: God of War
"
Ares, you will die for what you did that night!
"

–Kratos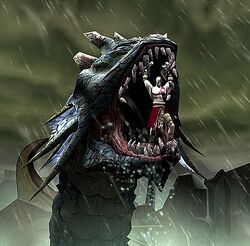 Ten years after beginning his service to the Olympian gods, Kratos was commissioned with killing the Hydra and bringing peace to the Aegean Sea. Along the way, Poseidon granted him the power of lightning and implored him to use it against the Hydra. After a long and vicious battle, Kratos emerged victorious by impaling the Hydra's front head on the ship's mast. Entering the decaying Hydra's throat, Kratos retrieved a boat key from the ship's Captain. For unexplained reasons, he refused to save his life and instead allowed him to plummet to his death. The Ghost of Sparta celebrated his victory that night with wine and women but continued to suffer from nightmares of his past deeds. Distraught, he approached one of Athena's statues and asked her when he would be free from his past. She told Kratos that his final task would be to find Pandora's Box and use the power inside it to destroy Ares. Kratos, having finally been granted an opportunity for revenge against the God of War, asked Athena if the gods would take his nightmares away upon completing this task. The goddess, however, refused to provide a clear answer, and instead offered him an intentionally vague promise of forgiving his past sins. Nonetheless, Kratos interpreted this answer as a 'yes' and set sail for Athens anyway.
Arriving at the docks of Athens, Kratos made his way through the besieged city, killing countless minions of Ares in the process. Encountering Aphrodite in a nearby temple, Kratos decapitated the infamous Medusa, Queen of the Gorgons, at her behest. In return, Kratos was granted the power to freeze his enemies where they stand. He later acquired lightning bolts from Zeus as well, using them to strike down a terrified Athenian guard after he refused to lower the bridge, thereby allowing Kratos to cross. Progressing further into the city, he briefly encountered the Athenian Oracle, who was then kidnapped by a pair of Harpies before she could speak to him. Giving chase, he soon found himself outside the Oracle's temple, where he observed a gravedigger (later revealed to be Zeus) digging a grave. Kratos inquired as to who would occupy it, to which the gravedigger answered that Kratos will. The Ghost of Sparta is alarmed by this answer, but the gravedigger reassures him that "all will be revealed in good time, and when all appears to be lost, I will be there to help".
Progressing further into the temple, Kratos finds the Oracle dangling from a nearby cliff and rescues her. She immediately suspects that Kratos is motivated by something other than a desire to do good, and looks through his memories. The Oracle is horrified by Kratos' past deeds and asks why Athena would ever call on someone like him. Kratos angrily grabs the Oracle by the throat and throws her aside, telling her to stay out of his head.
The Oracle informed Kratos that Pandora's box could be found in Pandora's Temple, located just beyond the Desert of Lost Souls on the back of the Titan Cronos. She warned the Ghost of Sparta that none have ever survived Pandora's temple, but Kratos is unfazed. A statue of Athena appeared before Kratos at the desert entrance, telling him that he must follow the song of the sirens and destroy all three before he can progress further. After doing so, he finds the Titan Horn and uses it to summon Cronos. Kratos begins to climb the Titan, arriving at Pandora's temple three days later. Just outside the temple's entrance, he notices a gatekeeper (who is revealed to be the undead spirit of the first mortal to ever attempt Pandora's temple) tending to a pyre of dead bodies. As punishment for his failure, the gods forced him to watch over the entrance for all eternity, and burn the bodies of any soul foolish enough to try and conquer Pandora's temple. Believing Kratos would fail just like all the others, he disinterestedly wishes the Ghost of Sparta good luck before opening the gates. As the Spartan made his way through the temple, he encountered both Artemis and Hades, from whom he gained the Blade of Artemis and Souls of Hades, respectively. Along the way, he defeats countless monsters (including a giant armored Minotaur), survives impossible traps, and sacrifices a caged Athenian soldier before finally reaching Pandora's box, being the first human ever to do so. However, this did not escape the notice of Ares, who responded by hurling a large broken pillar towards Pandora's Temple, impaling Kratos. The Harpies collected Pandora's Box and took it back to Ares, while Kratos died and fell into the Underworld. As he plummeted to the River Styx, Kratos grabbed hold of the Captain's leg and used it to climb to safety before kicking him down below into the River Styx.
Reaching the top again, Kratos managed to escape the clutches of Hades via the same hole that the Gravedigger had been digging earlier. He tells Kratos that Athena is not the only god watching over him and that he still has one final task to complete before his sins are forgiven. Journeying through the now destroyed city of Athens, he reacquires Pandora's Box from Ares and uses it to grow tremendously in size and gain a substantial amount of power in order to battle Ares on more even footing. After a vicious fight, Ares traps Kratos in a psychological void where demonic incarnations of himself attempt to kill phantom versions of his family. Kratos successfully fights them off but watches helplessly as Ares strips him of his Blades of Chaos and used them to kill his family again. Kratos, now distraught and vulnerable, nearly met his end at the hands of Ares, but soon took notice of the Blade of the Gods and used it to finally destroy the God of War.
Though his past had been forgiven, the Gods refused to relieve him of his nightmares. His last bit of hope taken from him, Kratos attempted to commit suicide by jumping from a cliff. However, Athena had a different plan for the Spartan; she saved his life and offered him the now empty throne of the God of War on Olympus. He accepted the offer, sat upon the fallen god's throne, and became the new God of War.
As the God of WarEdit
See also: God of War (Comics), Ghost of Sparta, Betrayal, and God of War II
"
My Lord, Kratos! Another city is ready to fall! Soon all will know the glory of Sparta!
"
Kratos entered Tartarus once again in search of the Ambrosia in order to destroy it, for the Disciples of Ares desired to use it to resurrect their now dead God. Throughout his journey, Kratos received flashbacks of his first quest for the Ambrosia. Making his way through Tartarus, Kratos encountered and defeated a giant arachnid monster. After pulling his blades out from the beast, Athena spoke to him in an attempt to warn him about new dangers on the path he took once before. Kratos shrugged off her warnings, confident that nothing would stop him.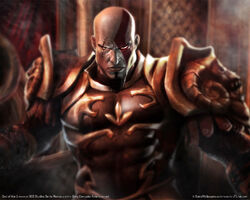 Later, he encountered Athena again and was told by the goddess that it is now the dead he must fear. Again, Kratos ignored her warnings, proceeding to find the dead bodies of Spartan soldiers who had accompanied him on his earlier quest for the Ambrosia. Rising from the dead, they attempted to kill Kratos in retaliation for abandoning them, although he defeated them all. The island then revealed itself to be a monstrous beast named Gyges, who sought revenge against Kratos after one hundred of his arms were burned off in his battle with Helios' Champion. Kratos, however, incinerated Gyges with the Flames of Apollo, destroying the Tree of Life and all of its Ambrosia. He then left the island, knowing that the disciples of Ares would hunt him down for destroying the last hope they had at reviving their fallen God.
Sometime later, Kratos experienced visions of his mother being held at the Temple of Poseidon in Atlantis. En route to Poseidon's city, Athena attempted to dissuade Kratos from his mission, but her pleas fell on deaf ears. His ship was then attacked by the Scylla. Chasing the monster off, he received another vision, this time of his childhood training with his brother Deimos. He entered the temple and encountered his long presumed dead mother Callisto, who assured Kratos that it is really her, to his shock. She then tells him that his father had taken her there and that Deimos is still alive; trapped and tortured in the Domain of Death. Both shocked and angered, Kratos asked who his father was and why she lied to him all those years ago. Before Callisto could tell him, she is transformed into a hideous beast, forcing Kratos to fight and critically wound her. Callisto used her dying moments to thank Kratos for setting her free and encouraged him to pursue Deimos in Sparta.
Enraged over the gods having taken yet another member of his family, Kratos embarked on a journey to save his brother, defiantly ignoring Athena's orders that he turn back. At one point, Kratos encountered the Titan Thera, imprisoned inside a volcano, who told him he would be incapable of leaving if he did not free her. After forcefully imbuing the Blades of Athena in the Titan's chest, Kratos obtained Thera's Bane and left the volcano. In releasing Thera, Atlantis' fate was sealed.
Upon his descent, he impaled the Scylla, who had been pursuing him relentlessly ever since his arrival, finally defeating the monster. Before returning home, Kratos found himself under attack by Erinys, Thanatos' daughter. Following Erinys' defeat, Kratos returned to Sparta, killing the Piraeus Lion and a Dissenter before entering the Temple of Ares (then in the process of being converted into the Temple of Kratos), where he would find the key to saving his brother. The Spartan then made his way back to the sinking city of Atlantis, although his route was fraught with danger as Poseidon had unleashed an enormous whirlpool at sea and attempted to blast Kratos from the sky in retaliation for the destruction of his city. Kratos survived Poseidon's assault, only to be contacted telepathically by the Sea God via one of his broken statues, warning him that he would pay for what he had done to Atlantis. Sometime later, Athena inadvertently revealed to the Spartan that it was she, along with Ares, who had taken Deimos from him that day, justifying their actions on the grounds that he was a threat to Olympus. This revelation deepened Kratos' hatred for the Gods even further. Proceeding onward, Kratos entered the Domain of Death and the Temple of Thanatos where he finally found his brother Deimos. Kratos set Deimos free, only to be attacked by him, as Deimos blamed Kratos for not helping him when in dire need. Witnessing the battle from close by, Thanatos intervened and snatched Deimos. Barely able to stand from his fight with Deimos, Kratos followed Thanatos to the Suicide Bluffs and quickly rescued Deimos from falling to his death.
After being reunited and reconciling their differences, the Spartan brothers took arms and joined forces against Thanatos. The God of Death taunted the brothers, recalling the oracle's prophecy that a "marked warrior" was destined to destroy Olympus. He comments that Zeus, Ares, and Athena chose the wrong "marked warrior" that day: it was Kratos who should have been taken away, not Deimos. Thanatos then said that it didn't matter anymore and that nothing Kratos does is of his own choosing. Kratos shouted that no one, not even the gods decide his fate, to which Thanatos laughed and said the gods decide, and the Sisters of Fate make it so, further commenting that Kratos was nothing but a pawn in a game that he didn't know was being played. In a climactic battle, Thanatos took Deimos' life, only to have an enraged Kratos take his in return. Kratos then took the lifeless body of his brother to his grave.