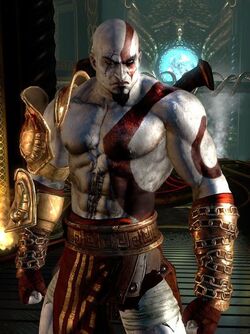 Kratos' Equipment was equipment used by Kratos in the God of War Series.
Weapons
Blades of Chaos: Powerful chained blades given to Kratos by Ares after he pledged his allegiance to him.
Magic
Items
Weapons
Blades of Chaos: Powerful weapons given to Kratos by Ares after he pledged his allegiance to him. In Chains of Olympus, when the Blades of Chaos were upgraded to Level 5, they didn't show the red cracks on the Blades.
Gauntlet of Zeus: A powerful weapon used by Zeus to chain the Titans.
Magic
Relics
Weapons
Magic
Relics
Rage of the Gods: An ability gained and improved by upgrading the Blades of Chaos.
The meter appeared at the bottom of the screen, and when full, you could activate "Rage of the Gods". While activated, Kratos did a lot more damage to his enemies and also took less damage.
Poseidon's Trident: Found that item within Pandora's Temple. Allowed Kratos to swim, dive, and breathe underwater indefinitely without drowning.
Weapons
Blades of Athena: Given to Kratos by Athena at the end of God of War. Replaced the Blades of Chaos, which Ares took from Kratos in their final battle.
Blade of Artemis: A large, cumbersome blade given to Kratos by Artemis. It was quite slow, but also did more damage to enemies than the Blades of Athena.
Magic
Medusa's Gaze: Upon killing Medusa Kratos took her head, and could use it to turn his enemies to stone.
Army of Hades: Given to Kratos by Hades in Pandora's Temple. Kratos could summon the very souls of the Underworld to attack any nearby foes.
Weapons
Magic
Relics
Weapons
Magic
Relics
Urn of Gaia: Collected 10 times the amount of red orbs.
Urn of the Gorgons: Gave weapons the power to turn enemies into stone.
Urn of Olympus: Granted Infinite Magic.
Urn of Prometheus: Granted Infinite Rage of the Titans.
Urn of the Fates: Extended Combo Timer by 3 seconds.
Urn of Poseidon: Replaced Cronos' Rage with Poseidon's Rage.
Weapons
Items
Bow of Apollo: The first item that Kratos acquired in God of War III. He obtained it after he killed Peirithous, the Mortal lover of Persephone, who was imprisoned in the Underworld by Hades and condemned to spend all eternity trapped within a cage of brambles. That item was similar to Typhon's Bane, except that it used the elemental power of fire instead of wind.
Head of Helios: The decapitated head of Helios was the second item obtained in God of War III. Kratos acquired that item after he met with an injured Helios, and, after a brief tussle of words, Kratos ruthlessly ripped his head off his shoulders. The beam held the power to reveal secrets, such as hidden doors and chests. When the beam shined on enemies, it temporarily blinded them. The item was very useful in dark areas and functioned as a sort of flashlight/lantern.
Boots of Hermes: Were depicted as greaves with burning red wings on them. Kratos mercilessly amputated them out of the legs of their owner; Hermes. Those greaves allowed Kratos to make a short dash forward, rammed through enemies and threw them aside, as well as gave him the ability to run alongside walls that were marked with shining and golden bootprints.
Magic
Divine Reckoning: The Magic of Athena's Blades, where Kratos summoned a whirling vortex with the Blade of Olympus.
Army of Sparta: A phalanx of Spartan spirits who protected Kratos while they attacked with spears and arrows. The magic of the Blades of Exile.
Soul Summon: The power of the Claws of Hades, which summoned the souls of various monsters to aid Kratos in battle.
Nemean Roar: A powerful shockwave that was created by the Nemean Cestus.
Nemesis Rage: Kratos shocked surrounding enemies with a blast of energy that was released from the Nemesis Whip and was similar to Cronos' Rage.
Relics
Weapons
Leviathan Axe: Given to Kratos by his second wife Faye, it was originally her axe until her death when she decided to give it to him. It was crafted by the two dwarves, Brok and Sindri.
Blades of Chaos: After Atreus falls deathly ill due to his true godly nature conflicting within himself, Kratos returns home to fetch these accursed blades in order to find the cure in Helheim. It also has the ability to wield the fires of Hel.
Armor
See: Armor Sets
Items
Relics
Spartan Rage: After Kratos builds his rage meter, he can channel Spartan Rage in combat. This powerful transformation ignites flames onto the fists of Kratos. His speed is drastically increased and the power of his unarmed attacks is increased, as well as adding invulnerability (His rage meter depletes in place of his health when hit) and slow health regeneration. Spartan Rage has its own moveset which includes channeling shockwaves, performing ground slams, and thrown rocks and projectiles. However this robs him of the ability to use the Leviathan Axe or Blades of Chaos until his rage runs out. Collecting 3 Horns of Blood Mead can increase his maximum rage so he can stay in it longer.
Head of Mimir: The head of Mimir is severed by Kratos during the events of the game. While the head doesn't actually have any gameplay elements, he can be used for unlocking certain content and lore.
Stone Masons Chisel Tip: Kratos can use this to open doors locked behind magic gates.
Magics