| | | |
| --- | --- | --- |
| " | Take the Ice of Poseidon and you will find your path. | " |
The Ice of Poseidon was an elemental power in God of War: Ascension.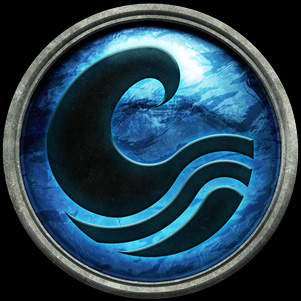 God of War: Ascension
Edit
"
Summon the Ice of Poseidon to break blocks. Also allows breathing underwater.
"

–Description
Kratos
obtained that power when he neared the structure of
Python
in
Delphi
. It was obtained in a very similar way to the
Fire of Ares
, with Kratos stabbing his
Blades of Chaos
 into a magic pot.
It broke blocks and froze enemies. The Ice of Poseidon could also summon glaciers to damage foes and also had the ability to freeze enemies and then instantly killed them by shattering them.
The power yielded large amounts of Red Orbs when it's used to freeze and shatter enemies.
Orb Costs
Edit
Level 1 - n/a
Level 2 - 1,250 Orbs
Level 3 - 1,750 Orbs
Level 4 - 2,000 Orbs
Level 5 - 4,000 Orbs
Level 1
Poseidon's Fury - A powerful combo that sends the enemy flying back - Square, Square, Square, Square
Plume of Poseidon - A quick and powerful combo that causes ice spikes to emerge from underneath the ground - Square, Square, Triangle
Level 2
Broken Destiny - Kratos slams both Blades together creating deadly ice shards - L1 + Square
Broken Destiny (Air) - Kratos slams both Blades together creating deadly ice shards - L1 + Square (Air)
Level 3
Immovable Blast - Kratos impales enemies with his Blades and blasts the power of Poseidon into chained foes - R3 + L3
Immovable Blast (Air) - Kratos impales enemies with his Blades and blasts the power of Poseidon into chained foes - R3 + L3 (Air)
Level 4
Poseidon Tremble - Kratos slams both chains down creating an ice wave - L1 + Triangle
Poseidon Tremble (Air) - Kratos slams both chains down creating an ice wave - L1 + Triangle (Air)
Level 5
Eye of the Storm - Summon a tempest of ice that has the power to freeze and damage multiple enemies - R2
Eye of the Storm (Air) - Summon a tempest of ice that has the power to freeze and damage multiple enemies - R2 (Air)