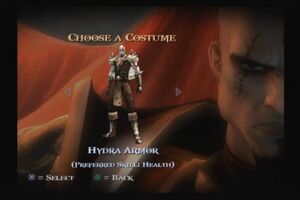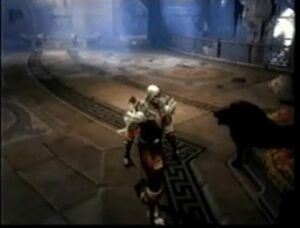 Featured as an additional costume for Kratos in God of War II, the Hydra Armor is unlocked by beating the game on any difficulty.
Before being unlocked by the player, the description of the costume is stated as "I always wondered what they did with the body..." After unlocking the costume it is described as "Wear armour forged from the scales of the deadly Hydra'", the first boss in God of War.
Wearing this costume doubles Kratos' armor, and the value of any Green, Blue, and Gold Orbs that he collects. However, this costume also depletes Kratos' overall strength by half.
Other Additional Costumes
The other bonus costumes found in God of War II are as follows:
Trivia
The armour's description pre-unlocking refers to the remains of the Hydra seen at the end of God of War, on display with tokens of the other bosses (Ares and Pandora's Guardian). Its increased defense and the decreased attack may refer to the fact that the Hydra is a durable yet fairly weak boss (being in the opening of the game).