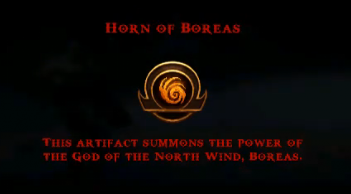 The Horn of Boreas
is an artifact found in the Shrine of
Boreas
that freezes enemies nearby by spinning the horn around him and smashing it to the ground.
Trivia
This new weapon works similar like Medusa's Gaze and the Head of Euryale. Excepting instead of turning you enemies to stone you can freeze them. In addtion that Kratos can use combo attacks with it.
At the Shrine of Boreas there are big statues of Dredge of Boreas. As Kratos killed two of them on his path and there were only two of their statues he has, presumably, killed the only two existent Dredges of Boreas on Aroania and, probably, in the world.
Related Pages
Community content is available under
CC-BY-SA
unless otherwise noted.