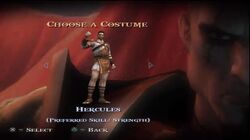 Featured as an additional costume in God of War II, the Hercules Costume is unlocked by beating the game on Titan Mode. Before being unlocked the costume is described as "The classics never go out of style..." After being unlocked the description is "Now you can have the strength and looks of Hercules." By beating the game on the hardest difficulty the character model changes from Kratos to Hercules. Wearing this costume gives Kratos a 50% increase in strength, but also reduces his armor by half. All of Kratos' other stats stay the same. The appearance of this costume is largely different from Hercules' appearance in God of War III.
Other Additional Costumes
The other bonus costumes found in God of War II are as follows:
Community content is available under
CC-BY-SA
unless otherwise noted.