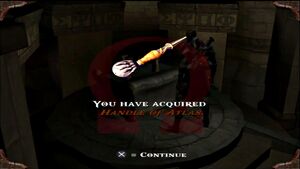 The Handle of Atlas is a standard crank handle that Kratos finds at the top of the Cliffs of Atlas during the Challenge of Atlas in Pandora's Temple. In order to get it, he must kill all of the Magic Legionnaires and Sirens in a large room at the top of the cliffs, before a trapdoor opens up below. The handle is needed in order to turn a crank that operates a giant statue of Atlas that Kratos comes across soon after.
Related Pages
Community content is available under
CC-BY-SA
unless otherwise noted.