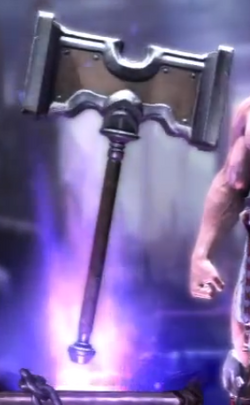 "
Proven in the sands of the arena, the only accolade this hammer seeks is the total defeat of its enemies.
"

–In game description
The Gladiator Hammer is one of the default weapons that warriors in Multiplayer start with. The others are the Gladiator Sword or the Gladiator Spear.
Experience
Rank 1 - n/a
Rank 2 - 4,000 XP
Rank 3 - 16,000 XP
Stats
Rank 1 - +3% Physical Damage; +7% Physical Defence
Rank 2 - +4% Physical Damage; +8% Physical Defence
Rank 3 - +5% Physical Damage; +9% Physical Defence
Attacks
Leap of Aggression - A short range leap attack that launches opponents. L1 + square
Warrior's Covenant - Unblockable. A heavy slam attack that launches a radius of opponents.  (After ranking up) Increased radius. L1 + triangle
Gallery
Trivia
Community content is available under
CC-BY-SA
unless otherwise noted.