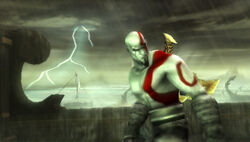 The Ghost of Sparta costume is a new costume featured in the eponymous game. Throughout God of War: Ghost of Sparta, Kratos sees visions of his past. The developers came up with a 'look' or visual style for these sequences that helped clearly set them apart from what was happening in present time. Everything and everyone in these visions/flashbacks has a vapor-like effect emitting from them. Taking almost all of the color out of the imagery, making it fairly monochromatic, with the exception of the color red which is associated with Deimos' birthmark, the fires that burned Sparta the day his brother was taken, and also the blood that stains his memories.
Choosing the Ghost of Sparta costume results in Kratos taking twice the damage from enemies, but offers a reward by inflicting quadruple fire damage with Thera's Bane. The Ghost costume is also able to regenerate the fire meter four times as fast than the default Kratos costume.
Obtaining It
To obtain this costume, you must beat the game in God Mode (Very Hard).
Community content is available under
CC-BY-SA
unless otherwise noted.