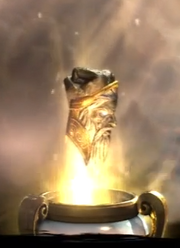 "
Carved with the Face of Olympic authority, these golden gauntlets will break an enemy's rebellious spirit.
"

–In game description
The Gauntlets of Zeus are weapons only available to players aligned with Zeus since the 1.10 patch.
Experience
Rank 1 - n/a
Rank 2 - 10,000
Rank 3 - 30,000
Stats
Rank 1 - +1% Health; +8% Physical Power; +3% Elemental Power.
Rank 2 - +2% Health; +9% Physical Power; +4% Elemental Power.
Rank 3 - +3% Health; +10% Physical Power; +5% Elemental Power.
Attacks
Olympic Zeal - Release a powerful shockwave blast in a short cone in front of you that silences and stuns enemies. Hold Square to charge up an even larger blast. L1 + square
Force of Judgment - Summon a massive force of lightning energy that stuns and sends all enemies in a large radius around you flying back. L1 + triangle
Trivia
Gallery
Community content is available under
CC-BY-SA
unless otherwise noted.