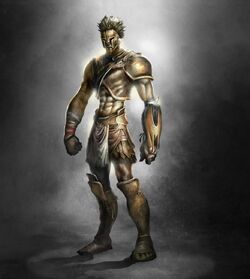 The Forgotten Warrior skin is based on the third concept design for Kratos from the original God of War.
This skin was previously exclusively made available through pre-ordering God of War III or the God of War III Ultimate Trilogy Edition. In North-America, the Forgotten Warrior skin could only be obtained by ordering from Gamecrazy. It was later on released for both the European and the North-American PSN on November 3rd, 2010.
During production stages, the Warrior was referred to as, "The warrior with dreadlocks," because his hair was literally made up of dreadlocks. The team had ultimately scrapped the idea because the final image was not as brutal and vicious enough as expected.
Abilities
Enemies inflict only 25% of the attack damage.
Trophies are disabled.
Other Additional Costumes
The other bonus costumes for God of War III are of the following:
Gallery