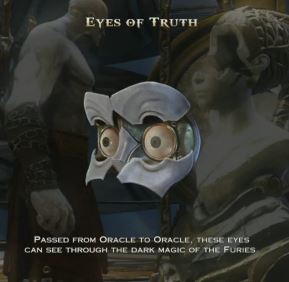 "
Passed from Oracle to Oracle, these eyes can see through the dark magic of the Furies.
"

–Description
The Eyes of Truth is an item obtained by Kratos in God of War: Ascension and holds the power to destroy the magic barriers, illusions, and dark spells created by the Furies.
History
They were actual eyes, originally from the Oracle of Delphi, Aletheia, and were ruthlessly and brutally removed by the Furies as a punishment when they, along with Ares, found out that Aletheia and Orkos wanted to warn Zeus about the plot created by the God of War and the Furies to overthrow Olympus and reign over everything.
The eyes were hidden in a bust of Aletheia, located in the lantern of the monumental Statue of Apollo, built in the island of Delos by the engineer Archimedes, and long after, used by Kratos to solve puzzles inside the lantern and to break free from the illusions that the Furies released upon him.
In the end of the game, after defeating Alecto, Kratos confronts Tisiphone and her pet, Daimon, for the last time. Tisiphone commands Daimon to attack Kratos, but the creature can't touch him, as he uses the Eyes of Truth to beat down the beast and later kill it.
Trivia
It is unknown what happened to the item after Kratos killed the Furies. They were supposedly destroyed alongside Daimon.
The eyes were the main tools used by Aletheia to have visions and foresee prophecies.
They were passed from one Oracle to the next.
Gallery