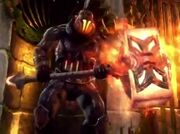 The
Fire Talos
is an enemy in
God of War: Ascension
. It is similar to the
Stone
and
Bronze Talos
in
God of War III
. They are covered in armour and have a furnace on their stomach, and they carry a fiery hammer. Occasionally the statue will cover itself in fire and become untouchable, in this stage, the Fire Talos can spring into the air and plummet down to earth in a ball of flames. The Fire Talos is shown the be a very formidable opponent to Kratos, but they receive damage in a similar way to both the Stone and the Bronze Talos and are killed in the same fashion as the two others, by getting smashed to pieces by its own gigantic hammer.
Trivia
In appearance, the Fire Talos resemble Hades for wearing a similar helmet.
The minigame to kill them is exactly the same as the Stone and Bronze Talos.
The Fire Talos is the second type of Talos carrying a hammer as the Bronze Talos uses a giant club.
Gallery
Related Pages