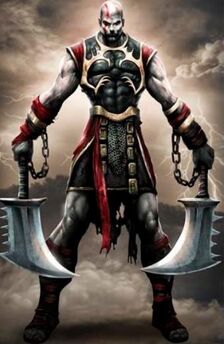 The
Dominus skin
is based on one of the early concept designs for
Kratos
from the original
God of War
. This skin was at first exclusively made available by pre-ordering the
God of War III
Ultimate or Trilogy Edition. It was later on released for both the European and the North-American PSN on November 3, 2010.
Abilities
If you start a new game and use this costume, Kratos will deal 200% damage, take only 50% damage himself, and gain 200% orb value, making it the most advantageous costume in the game.
Trivia
The Dominus skin is based on the same armor that Kratos used in all of his battles, including against the merciless barbarian tribe from the east, before swearing his life to Ares. The armor is unseen afterward.
He was planned to have this armor, as mentioned in the character graveyard in God of War, but the design for the armor had too much detail and did not look good against the detailed background. Because of this, the costume was scrapped.
After releasing God of War, Santa Monica Studios noted that they were intending to put this costume in a future release, which they have. It has since become available as a bonus costume in God of War III.
In the original concept art for the costume, the part of Kratos' tattoo that overlaps his eye is to his right side, but in-game it overlaps his left.
This was David Jaffe's favourite design for Kratos. 
When Kratos wore the armour in the series' canon, he did not have the ashes attached to his skin.
Additional Costumes
The other bonus costumes for God of War III are:
Gallery
Video
Community content is available under
CC-BY-SA
unless otherwise noted.