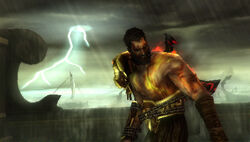 The Deimos costume was featured as a bonus costume in both Ghost of Sparta and God of War III, each with their own special abilities and setbacks.
God of War Series
Ghost of Sparta
The Deimos costume in Ghost of Sparta is obtained by beating the game on any difficulty level. Damage given if wielding the Arms of Sparta increases, whereas damage given by the Blades of Athena decreases, along with reduced armor values, thus giving the player a more challenging experience.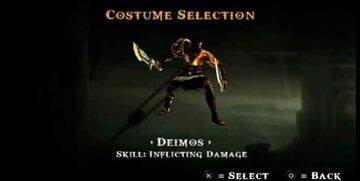 God of War III
The God of War III Deimos costume is much more detailed than the Ghost of Sparta costume, and on the PS3 edition, it originally became accessible by redeeming a code which was provided in a limited number of copies of Ghost of Sparta for PSP, or through online purchase within the first week of its release, and again for a limited time in November 2010. All the codes are now expired, but the costume can still be obtained by purchasing a digital copy of Ghost of Sparta from the PlayStation Store in all European regions. The Deimos costume features increased damage and increases the drop rate of Health, Magic and Gold Orbs by 400%, while decreasing Red Orbs by 100%. The costume, like all the other DLC, is normally available in the Remastered edition of the game on PS4.
Trivia
In PlayStation All-Stars Battle Royale, a Deimos costume, worn by Kratos, could be unlocked by pre-ordering the game or buying it off from the PlayStation Store as a standalone DLC or as part of a costume pack. However, it gives no bonuses.