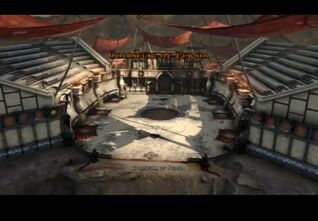 The Coliseum of Persia is a map of the multiplayer in God of War: Ascension. It is a Persian battle arena with a deep pit in the center.
Traps
The deep pit in the center of the coliseum can bring up a Cerberus Mongrel that can be ridden, and can be a powerful tool to use against enemies.
Godly Intervention
When the Gods intervene, the Chalice will become sought after by the players.
Trial of the Gods
Acting as a new map for the Trial of the Gods mode, the Coliseum has a great variety of enemies to fight the players, which include Satyrs, Fire Taloses, Chimeras, Hooded Gorgons, Parasites, Harpies and even Spartans, a new Multiplayer enemy. The biggest enemies enter the arena via its elevator. In the final round of the match, the Olympian Sentinel will enter the arena with a big number of Spartans using this elevator. By killing him, the players win the match.
Most of the monsters present in the Coliseum are likely to be part of the exotic collection of the Persians. The Spartans are possibly prisoners of war who were forced to fight in the Coliseum for their lives. However, it's hard to deduce why the Olympian Sentinel is present here.
Related Pages
Community content is available under
CC-BY-SA
unless otherwise noted.