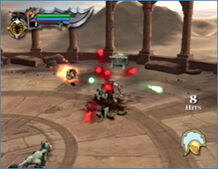 The Challenge of Poseidon is the second challenge of the lower levels of Pandora's Temple. It starts out as a series of cliffs on the very outer edge of the temple. After that, Kratos makes a sacrifice to the god Poseidon, and is then allowed passage deeper into the temple, where he finds and obtains Poseidon's Trident, and is granted the ability to swim and explore the numerous underwater passageways within that part of the temple. Finally, Kratos returns to the Temple of the Crystal Eye at the main part of Pandora's Temple, with Poseidon's Trident in his possession. The Muse Keys can also be found in this challenge.
Objects/Treasures
Gallery
Related Pages
Community content is available under
CC-BY-SA
unless otherwise noted.