"
Skinned from the Gorgon Medusa's scaled belly, this armor serves as a stone cold reminder of an enemy's certain defeat.
"

–In-game description
The Armor of Medusa is an armor set from Multiplayer available to all alliances after completing certain labors.
Description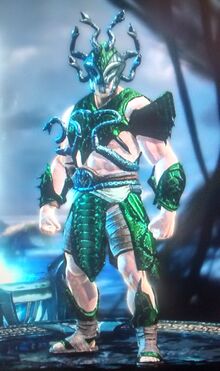 This armor is based on the gorgon Medusa, the reptilian beast with snakes instead of hair who turned anyone who looked at her eyes into stone. Notice that it's possible to change the color of any "metallic" part of the armor.
The helmet is silver, with silver snakes coming out of it, two reptilian fangs and dark eyes. The middle section of it is metallic and resembles scales. It covers all of the champion's head and face, except for his mouth, and possibly the armor's dark eyes are only visors through which the warrior can see.
The upper armor consists of a large metallic piece that protects both the champion's chest and backs, two metallic pieces that protect his forearms and another one that protects his left shoulder, all of which are shaped like scales. There are also two silver snakes that come from the back part of the armor to its frontal one, and another one that is coiled around the champion's right biceps.
The lower armor has a silver belt that is also shaped like a snake's body, and two snakeheads in the middle of it. Scale shaped cloths come down from this belt, and they're metallic as well. There's also a brown piece that protects both thighs and is most likely made of leather. Finally, more metallic and leather pieces protect the champion's feet, shins, and calves, and the pieces that protect the shins and calves resemble three claws.
This is the best Multiplayer armor in terms of Elemental Resistance, being recommended against warriors of Zeus. However, it decreases health, but this decrease can be minimized by leveling up the armor. If combined with the Manticore Armor, the set can greatly protect its owner from any attack inflicted by the enemy.
How to Unlock
Helmet - Stoner I (Awake the Gorgon [Stheno] 3 times)
Chest - Fury of the Gods I (10 PVP kills using magic)
Legs - Natural Selection III (25 kills using traps)
Stats
Rank 1 - -3 Health; +15% Elemental Resist
Rank 2 - -2 Health; +16% Elemental Resist
Rank 3 - -1 Health; +17% Elemental Resist
Images
Community content is available under
CC-BY-SA
unless otherwise noted.