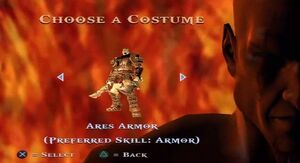 Featured as an unlockable
costume
in
God of War
, the
Ares Armor
costume for
Kratos
is unlocked by beating the
Challenge of the Gods
.
By wearing this costume, Kratos is adorned in the suit of armor that you see Ares wearing in the game. His Blades of Chaos remain the same in appearance. With this costume, Kratos' armor is greatly increased as he takes less damage from enemies, and he also does double damage with his blades. The costume also doubles the value of any Green or Red Orbs Kratos collects. With all its capabilities, the Ares Armor is the most advantageous costume in the game.
Other Additional Costumes
The other bonus costumes found in God of War are:
Community content is available under
CC-BY-SA
unless otherwise noted.