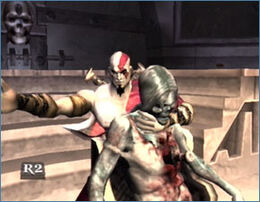 This is the skull of the wife of Pathos Verdes III, the architect of Pandora's Temple.
When Kratos reaches the inner part of the Architect's Tomb, he finds the corpse of Pathos Verdes III and his long dead wife, as well as a note indicating that the death of his wife had been caused by the good architect himself. Kratos reads the note, glancing at the various blueprints of the temple scattered around the tables on the sides of the room, and takes his wife's head, using it as a key to unlock a large door with a skull-like carving on it at the back end of the tomb's chamber. The door opens, leading to possibly one of the most tedious fights of the game as well as Pandora's Box.
Related Pages
Community content is available under
CC-BY-SA
unless otherwise noted.