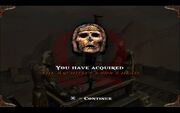 Pathos Verdes III
had two
sons
, whom he buried in two separate locations in
Pandora's Temple
. In order to traverse the temple, one would need to find their corpses, and take their skulls. Their skulls then function as keys.
Kratos
finds the bodies of both sons, and takes both their skulls. The first skull is used to unlock a doorway into the second
Ring of Pandora
, and the second skull is used to drain out the water in the third ring. Verdes III was ingenious in his idea to implement skulls as keys, but he most likely did this because of his growing insanity.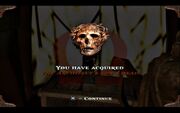 When Kratos was on his mission to stop Ares' reign of terror, he was told that he would need the power held within Pandora's Box to defeat him. He used the skulls for their purpose, leaving the bodies without skulls. The Temple was then left without anything to stop mortals from reaching the box (including Kratos).
Trivia
In the Cliffs of Madness, several deceased soldiers' bodies are found. It remains unknown how those soldiers got so far without having taken the skulls from the sons' corpses. It is possible that this was a mistake overlooked by the developers, although it's possible that they have conquered the lower floors but died as a result in the upper floors as the Cliffs of Madness is very unforgiving as Pathos called it a "Maze with no true way out"
Related Pages
Community content is available under
CC-BY-SA
unless otherwise noted.