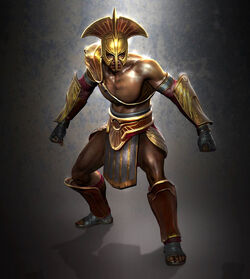 Featured as a
bonus costume
in
God of War III
,
the Apollo costume
at first became available through pre-ordered copies worldwide. Amazon.com held the exclusive rights in North America, whilst European buyers could get theirs in nearly every store available. It was later on released for both the European and the North American PSN on November 3rd, 2010.
Description
Apollo, appearing as a tanned, muscular man with completely golden eyes, wears a golden Corinthian helmet that uses one metal ridge instead of hair, a golden shoulder guard, golden arm guards with decorative eagle designs, a golden belt, and arm and shin guards. When using this costume, the player uses the Blades of Exile.
Abilities
Apollo does half the normal attack damage
Enemies do half the normal attack damage
Trophies are disabled
Trivia
Other Additional Costumes
The other bonus costumes for God of War III are:
Gallery
Community content is available under
CC-BY-SA
unless otherwise noted.