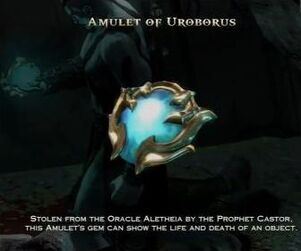 "
Stolen from the Oracle Aletheia by the Prophet Castor, this Amulet's gem can show the life and death of an object.
"

–Description
The Amulet of Uroborus is an item capable of manipulating time itself, and it is used by Kratos in God of War: Ascension.
God of War: Ascension
The Amulet belonged to Oracle Aletheia but was stolen by the false prophet Castor and his brother Pollux. Kratos challenged them to a duel and killed them, before claiming the amulet for himself. Granting the ability to decay buildings or rebuilding them, he can use the amulet to solve many puzzles through the game.
The ability is used in the island of Delos to reconstruct a structure previously destroyed by Alecto, and is capable of rebuilding enormous structures, like the Statue of Apollo and large sections of the Hecatonchires. When activated, the area being rebuilt glows green. When using it to rebuild something that was previously broken, Kratos must stand on a small glowing circle and use the ability to make the broken pieces float in the correct places for him to proceed. The Amulet can also be used in combat: if the green beam hits an enemy, the said enemy will be slowed down, and may levitate for a few seconds thus losing the ability to attack, therefore leaving it open to combos.
Orb Costs
Level 1 - n/a
Level 2 - 5,000 Orbs
Abilities
Level 1
Amulet Activate - Hold Down L1 and press O to Target objects. Then Hold down L2 and move R Analog - Right to heal, and Left to decay objects.
Level 2
Increased Area of Effect
Decreased Cool-down Time
Gallery
Trivia
This new magic/relic has a very similar color and effect to the Amulet of the Fates from God of War II, as it is also a temporal ability with a green beam.
It was formerly known as the Life Cycle.
The Item makes an appearance in the Rise of the Warrior webseries, under the name of Gem of Uruborus.