"
Bearing the Star of Thetis and Achilles' all consuming rage, this spear brought down the mighty Hector at the Gates of Troy.
"

–In game description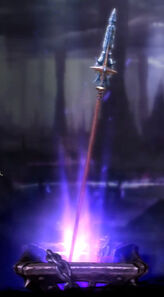 The Spear of Achilles is a DLC weapon of God of War: Ascension's Multiplayer. It's a spear bearing much resemblance to the Hyperion Spear. It was specially created for co-operative moves, like the other weapons of the Mythological Heroes pack.
Description
"
A sweeping melee spear with coop abilities.
"

–Description
The Spear of Achilles is a long bronze spear, ending in an iron two-bladed tip. The lower half of the bladed-tip has being shaped like the sun and has a bronze cross as decoration, finishing off the sun-look.
Experience
Rank 1: N/A
Rank 2: 15,000
Rank 3: 45,000
Stats
Rank 1: +9% Physical Power; +2% Cooldown Reduction
Rank 2: +10% Physical Power; +3% Cooldown Reduction
Rank 3: +11% Physical Power; +4% Cooldown Reduction
​Attacks
Hector's Demise - A quick leap attack that sets opponents up.  Co-op move boosts over an ally into a super charged dash attack. L1 + Square
The Hand of Patroclus - A sweep attack that allows allies to execute a dual attack if tethered. L1 + Triangle
Gallery
Related Pages