"
Galvanized in the River Styx, this armor has offered protection to one of Greece's legendary war heroes.
"

–In-game description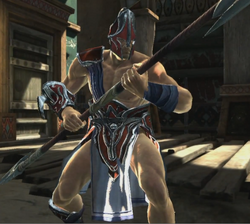 Achilles' Armor is a pre-order multiplayer bonus armor from the "Mythological Heroes" pack in God of War: Ascension. His armor is included among Perseus', Orion's, and Odysseus'.
Design
His armor sports a Spartan-style helmet without the plume, a shoulder guard that connects to a piece of armor guarding his stomach via a purple cloth, two braces on his forearms and his left brace serves as an armblades.
Stats
Rank 1 - +1 Health; +2% Physical Resistance
Rank 2 - +2 Health; +3% Physical Resistance
Rank 3 - +3 Health; +4% Physical Resistance
Experience
Rank 1 - N/A
Rank 2 - 3,500 XP
Rank 3 - 12,000 XP
Gallery
Community content is available under
CC-BY-SA
unless otherwise noted.